Classical Pilates


Peter's unique perspective comes from years of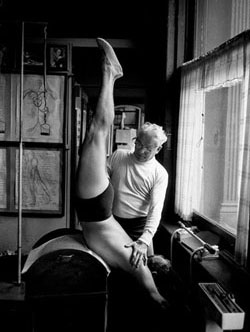 experience as a Romana Kryzanowska certified Pilates instructor. His many years of study, and long-term teacher training experience, culminate into intriguing, spirited and fun educational events! Peter's devotion with Pilates began in 1988, when he took his first class at Wee-Tai Hom's studio in New York City. As his passion grew, Peter pursued teacher training at Drago's Gym, receiving certification in 1998 from famed master teacher Romana Kryzanowska. Over time, Peter honed his knowledge and teaching with regular lessons from Romana, as well as from master trainers Jay Grimes, Kathy Grant, and other distinguished, traditional instructors. Peter continues to study and dedicate himself to preservation of Joe Pilates' traditional system of corrective exercise. Peter helps educate the public about traditional Pilates technique by sustaining the worldwide
www.ClassicalPilates.net instructor directory.

Producer and director of the award-winning Classical Pilates Technique series of six DVDs (2002-2006) and author of the critically reviewed companion book, Discovering Pure Classical Pilates (2008), he has been a frequent guest instructor at training centers throughout the U.S., Europe and South America. Peter's book was translated into Spanish language and titled Descubriendo el Pilates Clásico (2010). During 2013 he released a new book, Voices of Classical Pilates, which is an extraordinary collection of essays written by 28 well-respected professional Classical Pilates teachers. Peter appeared in Romana Kryzanowska's first commercial DVD project, demonstrating the Pilates Mat workout, as well as the DVD Pilates Revealed, with master teacher Jay Grimes.
VIEW this 5 minute interview on ABC News' Healthy Life